Here you'll learn all about us: our interests and hobbies, the people in our family, our pet, and more. I've even included a list of my favorite links to other sites.
Here are some sites that we've created: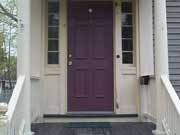 Welcome to the front door of our Home Page!



What's New?
Here I might add an entry whenever I make an update to my web site. Where appropriate, I'll include a link to the change. For example:

4/30/01 - Opened this new site! Now that we're at Tripod, Ali and I will have more space to put up stuff!